Model TCAT-2LV Small Animal Temperature Control System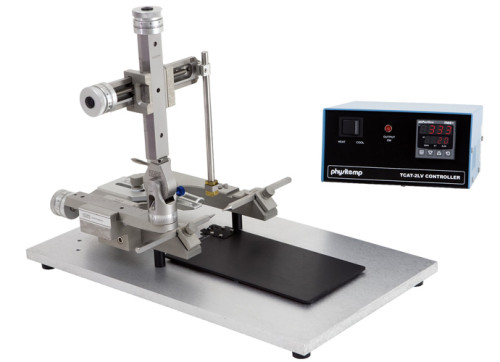 Model TCAT-2LV Temperature Controller combined with
Model HP-1M Heating Plate and appropriate animal rectal probe are designed to maintain the body temperature of anesthetized animals during stereotaxic surgical procedures. Unit may also be used in cooling applications.
Model TCAT-2LV provides a low voltage DC output to improve performance for electrically sensitive applications where AC frequencies might interfere with monitoring devices. Product may not be suitable for electro-physiology applications. It comes standard with a built-in DC power supply. Design includes a dual set point control circuit to prevent the heating element from over-shooting the control point due to thermal lag.
Model HP-1M and Model HP-4M Heating Plates options with Models
RET-2-ISO or RET-3-ISO Rectal Probe options are connected to the TCAT-2LV Temperature Controller. The controller front panel is set to required temperature. A heat /cool switch is provided. An indicator light indicates when power is being applied.
Model HP-1M Heating Plate is a direct current heating plate for small rodents. Standard plate is black anodized aluminum.
HP-1M Plate Dimensions: 8½" L x 4 3/8″ W x ¼" H
HP-4M Plate Dimensions: 4″ L x 1 1/2″ W x ¼" H
RET-2-ISO Rat Rectal Probe
RET-3-ISO Mouse Rectal Probe
(probe not shown)
Specifications
| | |
| --- | --- |
| Accuracy: | ± 0.5°C |
| Resolution: | ± 0.1°C |
| Range: | -200 to +400°C |
| Readout:DC Output Rating:AC ground leakage current: | Dual display, Set (green) & Run (red) temperatures |
| Dual Set Point: | TCAT-2LV 12V DC, 2 amps Max. |
| Protection Feature: | temperature exceeding 40°C |
| Dimensions: | 7¼" W x 4 3/8″ H x 10″ D |