Model 900M Small Animal MRI Stereotaxic Instrument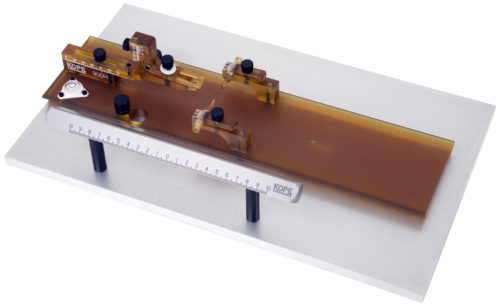 Model 900M Small Animal MRI Stereotaxic Instrument is designed to successfully stabilize small animals for stereotaxic surgery including repositioning of the head holder assembly within
a MRI device without generating electromagnetic interference.
A/P Bar – 18.70 mm square
A/P Bar length – 25.40 cm
A/P Bar calibration – 100 mm each side of zero (ear bar centerline)
A/P zero to posterior end of bar – 12.70 cm
Ear Bar Locator position – A/P zero
The A/P bar is compatible with Kopf manipulator Models 1460, 1460-61, 1760SB and 1760-61SB. (manipulators sold separately)
The design of Model 900M-B MRI Head Holder Assembly allows easy access and removal from the stereotaxic base for insertion into an MRI device 12 cm diameter (or larger). Animals head position remains constant.
Model 920M MRI Rat Adaptor includes a nose and tooth bar assembly offering various stereotaxic adjustments
Dorsal/Ventral adjustment – 20 mm
Dorsal – 10 mm above ear bar zero
Ventral – 10 mm below ear bar zero
Adaptor Plate A/P adjustment – 46 mm
Ear Bars – Model 955M MRI Non-Rupture 45° Tip Rat Ear Bars with fillable fluid marker tip (6.3 mm square with 20 mm of calibration).
Another unique feature that this instrument offers are ear bars which can be filled with a reference fluid marker, such as Vitamin E or Mineral Oil. Ear bars have removable extensions. Once the animal is properly secured within the head holder, the back of the ear bar can be unscrewed and removed, this will assist when loading MRI head holder into small diameter MRI devices.
Model 900M Standard Accessories
(supplied with Model 900M)
Model 900M-B MRI Head Holder Assembly
Dimensions:
16″ (40.64 cm) length
3.964″ (10.07 cm) width
3.430″ (8.71 cm) height
Material:
ULTEM-1000
NYLON 6-6 and
Delrin
Model 900M-D Stereotaxic A/P Bar and Base Plate Assembly
length
10″ (25.40 cm) width
4.026″ (10.23 cm) height
Material:
Stainless Steel and
Aluminum
Features
Quality, versatility and ability to perform are guaranteed by                   David Kopf Instruments.
Combines student level operating simplicity
with research quality and accuracy.
Permits accurate and reliable stereotaxic placement.
Adaptable for use with a wide variety of small animals.