Model 1630 Large Animal Stereotaxic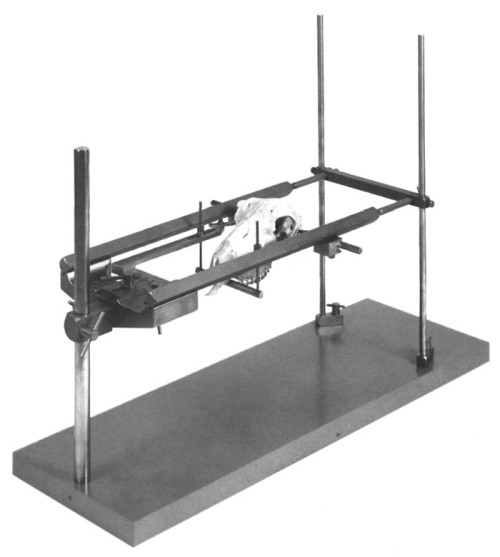 Model 1630 Large Animal Stereotaxic is a large, heavy-duty instrument designed for proper stereotaxic placement of large research animals. While primarily constructed for sheep and goats, this instrument can be modified for use with large dogs, monkeys and other large animals.
Designed specifically for use with the Kopf 1760 series micro manipulators. Manipulator product specifications and options are located on catalog pages 62 – 65. (manipulators sold separately)
A/P Bar(s) – 21.65 mm square
A/P Bar length – 50.8 cm
A/P Bar calibration – 100 mm each side of zero (ear bar centerline)
Frame Bar centerline distance – 21.59 cm
A/P zero to posterior end of bar – 14.28 cm
Ear Bar Locator position – A/P zero
Model 1630 Frame Assembly with one set of ear bar locators is fixed to an ultra-heavy Universal Clamp which is mounted on a 1″ diameter Stand Post. Outboard ends of the A/P bars are mounted on 12.7 mm diameter Vertical Outboard Posts, which are secured at the ends with a tie bar to stop any vibration.
Model 1655 Sheep / Goat Adaptor locates the animal firmly and accurately by means of tapered ear bars which fit into the external auditory meatus.
Adjustable infra-orbital clamps and a vertically adjustable palate bar prevent rotation of the skull. Model 1654 Standard Solid Ear Bars included (9.4 mm square with 50 mm calibration).
This complete unit is mounted to an aluminum base plate with four rubber feet to help dampen vibration.
Plate Dimensions: 32″ L x 12″ W x 1½" H
Features
Frame bars are extra long with wider A/P centerline distance necessary for larger animals.
Manipulators can be mounted from either side end of A/P bar.
Assures extreme rigidity without sacrificing flexibility.
Model 1630 Standard Accessories
(supplied with Model 1630)
Model 1630-B Stereotaxic Frame Assembly includes:
Stereotaxic "U" Frame with one set of ear bar locators
Base Plate
Universal Clamp and Stand Post
Vertical Outboard Posts and Tie Bar
Model 1655 Sheep / Goat Adaptor
including one set of Model 1654 Standard Solid Ear Bars
Special Order
Look below under Optional Accessories for Stereotaxic Manipulators that are sold separately.
Click here for a complete list of stereotaxic accessories.
Optional Accessories
Model 1760, 1760-61 Micro Manipulators
Model 1460-LB, 1460-61-LB Electrode Manipulators
(LB series fits 21.65 mm A/P bar)
Model 1749 Electrode Manipulator Stand
Model 1750 Calibrated A/P Zeroing Bar
Model 1755 Electrode Angle Calibrator