Model 1475 Stereotaxic Drill Press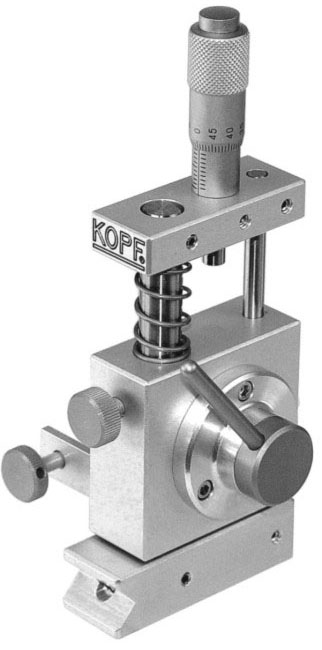 Model 1475 Stereotaxic Drill Press is designed to simplify drilling precision burr holes into the skull at precise stereotaxic coordinates.
The drill press attaches directly to the stereotaxic manipulator and allows you to quickly lower the drill from a safe clearance height above the skull; to and then into the skull, retracting as quickly as you entered.
Model 1475 Drill Press provides a micrometer depth stop with .010 mm resolution with total travel distance of 13 mm. A vertical locking screw is provided to secure heavier drilling units in a safe retracted position. Any Kopf stereotaxic drill with handpiece holder can be attached to our drill press using our traditional upper bracket clamp assembly, which is used on all Kopf stereotaxic accessories
.