Angle Calibrator, A/P Zeroing Bar & Stands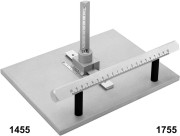 Angle Calibrator, A/P Zeroing Bar &
Manipulator Stands for large animal frames 1430 1530, 1730
Model 1449 / 1749 Kopf Manipulator Stand provides a convenient place to store manipulators when not in use.
Model 1450 / 1750 Calibrated A/P Zeroing Bar allows electrodes to be set and positioned on manipulator outside of the stereotaxic frame.
Model 1455 / 1755 Electrode Angle Calibrator provides a quick and reliable method for accurate stereotaxic placement of electrodes at any angle, including right & compound angles.