Model 1711 Intracellular Base Plate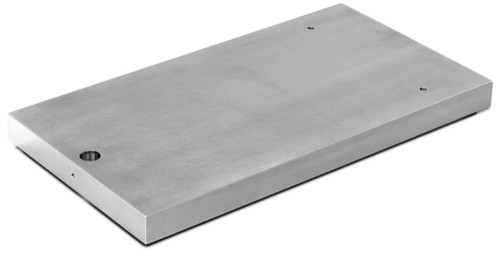 Model 1711 Intracellular Base Plate is supplied with the Model 1730 Intracellular Frame but can be used to support any stereotaxic frame. This heavy aluminum base plate has four rubber feet to help dampen vibration. There is a 1″ hole for mounting the stereotaxic instrument at one end of the plate and two 3/8-24 threaded holes at the other end of the plate for mounting the Model 1735 Vertical Post & Tie Bar for additional stability. You can mount Model 1430 or 1530 stereotaxic instrument to this base by ordering Model 1712-02 Sleeve to reduce the mounting hole to 3/4″ diameter.
This set-up will require a 20 mm (25/32 or .781″) hole drilled through the table to allow vertical adjustment of shaft on the stereotaxic for lowering height of apparatus. Another option is Model 1725 Universal Clamp and Stand Post. Model 1725 allows easy adjustment of stereotaxic frame height, which can be positioned anywhere along the vertical shaft.
Weight: 40 lbs.
Dimensions: 22″ L x 12″ W x 1½" H