Model 1530M MRI Stereotaxic Instrument
for Dog and Monkeys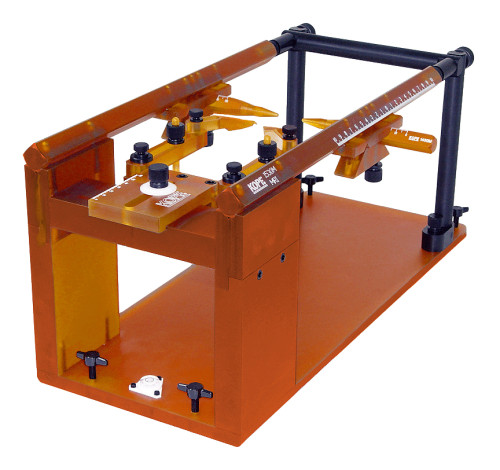 Model 1530M MRI Stereotaxic Instrument for dogs and large monkeys available by special order only. Additional animal adaptors for small and large animal MRI quoted upon request.
A/P Bar(s) – 18.70 mm square
A/P Bar length – 37.47 cm
A/P Bar calibration – 100 mm each side of zero (ear bar centerline)
Frame Bar centerline distance – 17.78 cm
A/P zero to posterior end of bar – 12.08 cm
Ear Bar Locator position – A/P zero
Base Plate – 19¼" x 8″
The A/P bar is compatible with Kopf manipulator Models 1460, 1460-61, 1760SB and 1760-61SB. (manipulators sold separately)
Model 1535M Dog / Monkey Adaptor locates the animal firmly and accurately by means of tapered ear bars which fit into the external auditory meatus. Adjustable infra-orbital clamps and a vertically adjustable palate bar prevent rotation of the skull. A unique feature this adaptor offers is ear bars which can be filled with a reference fluid marker, such as Vitamin E or Mineral Oil.
Eye Bar A/P adjustment – 20.5 mm
Tooth Bar adjustment – A/P – 79.3 mm D/V – 36.8 mm
Adaptor Plate A/P adjustment – 31.75 mm
Ear Bars – Model 851M Standard Solid Ear Bars with fluid marker tip included (12.7 mm square with 50 mm calibration).
Product specifications listed are compatible for use with 45 cm diameter MRI device. Custom height modifications for compatibility with other MRI devices are offered at no additional charge.
Dimensions:
16.500″ (42 cm) length
7.937″ (20.16 cm) width
8.857″ (22.5 cm) height
Weight: 7lbs. 12 oz.
Material:
ULTEM-1000,
NYLON 6-6 and
Delrin